Among the potential blockbusters opening on Christmas Day this year is the much-anticipated "Concussion," starring Will Smith, Alec Baldwin and several other big-name stars. With movie trailers currently running during NFL games, Hollywood is addressing a highly controversial issue with far-reaching consequences and disconcerting implications: Sports-related concussions.
This pandemic of sports-related concussions (SRCs) is sweeping the world of organized team sports, leaving a disturbing amount of neurological deaths and disorders in its wake; a conservative estimate places the number of SRCs at between 1.6 and 3.8 million annually in the United States alone.
Over the past decade the number of emergency department visits for sports-related traumatic brain injuries among children and teens has increased by sixty percent.3 Despite this spike, a new study in Surgical Neurology International finds that the number of children participating in organized team sports is surprisingly decreasing.
Additionally, while total mortality is on an overall decline, neurological deaths and disorders are also on the rise.
So what's to blame for this disproportionate and enigmatic shift in SRCs? In an article about the study, author Wendy Morley and MIT senior research scientist Stephanie Seneff, provide a harrowing explanation: resilience is no longer the norm in our toxic, modern lifestyle.
Diminished Resiliency
The two authors have coined this epidemic as diminished brain resilience (DBR) syndrome, a perfect storm spurred on by pesticide and chemical toxicity, consumption of processed foods, a lack of exposure to sunlight, poor gut health, and exposure to heavy metals such as aluminum.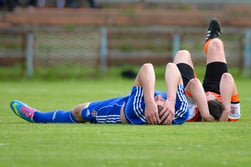 As Morley and Seneff explain, the human body has "innate and regulatory mechanisms" capable of spontaneously resolving an uncomplicated single concussion typically within 24-72 hours. This is contingent, however, on unaltered physiology—a protection our modern and toxic environment has critically impaired.
These functional deficiencies in important brain nutrients interrupt what the authors refer to as "the normal processes of homeostatic balance," an equilibrium critical in avoiding a slew of physiological consequences.
Another key culprit, Morley and Seneff suggest, is the toxic levels of aluminum in our bodies which cause inflammation in the brain, making it difficult for concussions to heal at a normal rate. Aluminum exposure is prevalent and pervasive: with a half-life of about 7 to 8 years, children involved in organized team sports are still taking a hit for aluminum adjuvant vaccinations they received from ages 4-6. This is only compounded by vaccine booster shots targeted at preteens, which contain significant amounts of aluminum adjuvant. Some of these include Tdap (1.5 mg of aluminum adjuvant), Gardasil (675 µg), and Meningitis B vaccines in prelicensure studies (1.5 mg).
Restoring our Resilience
According to Morely and Seneff, "fully eliminating toxic exposure is improbable." If toxicity in our modern times is inherent, what is the solution to the daunting spike in DBR syndrome and a host of neurological disorders?
At a minimum, say the authors, we must proactively work to move away from our chemical and toxin-dependent societal norm. More specifically, this means avoiding aluminum exposure (found also in antiperspirants, certain sports drinks, and sunscreens); eating organic, non-GMO, mineral-rich foods; consuming enough omega-3 fatty acids to promote healing mechanisms in the brain; getting enough exposure to sunlight; and improving our overall gut health.
Finally, parents should become educated and/or have a discussion with their pediatricians about the timing and types of vaccines on their children's schedule. Since these are the sources of highly concentrated aluminum -- and the compounded effects of multiple vaccines have never been studied – it is worth inquiring about brands that contain less or no amounts of aluminum. Better, parents should consider delaying, spreading out or forgoing unnecessary vaccines for their children.